It seems popular nowadays for new companies to launch using the peer-to-peer (P2P) business model. The main concept of this model borrows from the distributed computer architecture where data or workload can be shared among equally privileged peers within a network. Peer-to-peer moves beyond computers and translates well into the real world because many people already own a product or service that is deemed valuable by others in the same community.
The classic P2P model works well when the product (or service, but I'll just use "product" to mean both from now on) being offered is a fixed and relatively well known item. Popular examples include: books, cars, songs and movies. The task at hand for the company is then to create an effective marketplace for people to share their goods and potentially charge a fee for it.
Here at Munchery, we introduce a revised model called pro-to-peer (Pro2P). When it comes to prepared food, we feel this is a much stronger approach than the classic P2P.
There are some critical shortcomings with the P2P model when it comes to prepared food. Since food is not prepared by machineries, it takes meticulous attention to achieve high quality. This is difficult for many people to achieve consistently unless they cook for a living. There's also health code compliance, which immediately eliminates any kind of prepping and cooking at non-certified kitchens (such as home kitchens). Then there's the trust issue, which is especially sensitive when it comes to food because it's literally a product we ingest into our body. Unless it's cooked by a dear relative or a close friend, or by a professional entity, we will naturally not trust it. That is a gut feeling that we should not ignore.
Thus, we establish the pro-to-peer model. The chefs working with Munchery are independent, professional cooks. Many of these pros are trained at culinary schools. They understand and know how to maintain the best quality and consistency. Yet these professionals are not some remote entities. They live and work in the same communities their customers live and work in. They support the same local and sustainable farms that you and I enjoy shopping from. They pay utmost respect to their customers and the reputation they build; they are always anxious to get feedback from customers after each and every meal served.
Food is personal. In fact, it's hard to imagine of any other product we use that's more personal than food. When a chef cooks great food that we love, we instantly feel a connection. You feel the love that's been put into such great food. On Munchery website, you can reach out and share your feedback to the chef. We want to bring that experience to everyone.
People are used to only two options when it comes to food: 1) cook it themselves, and 2) purchase it from a local restaurant. Munchery enables a 3rd option: Get it from a local professional chef. Whether it's a single meal for yourself, or having it catered to your office or a private party, there's a Munchery meal for you. Browse our Munchery website and place an order directly.
"Having food cooked by a personal chef? That's awesome but is expensive, isn't it?", one would often exclaim when we first tell them about Munchery. We are here to change that, in ways that are economically feasible for both chefs and for consumers.
Personal chefs for the rest of us. We hope you give us a try and taste the difference Munchery makes.
Share this:
It's always been a pleasure for our Munchery team to bring daily joy to our beloved customers. Something seemingly so simple as great food and outstanding service can bring happiness and squash away one's hardship for the day, even if just for a short while.
Here at Munchery, we quickly learn from our customers that delivering care and happiness is not bound to geography! We often have customers who don't live in San Francisco themselves, but bought gift cards for their love ones who do live there, whether for an anniversary or to celebrate the birth of a new baby!
I want to share a recent story that was slightly different.
Earlier in the week, one of our drivers was delivering a few meals to a customer (for confidentiality purposes, I'll just call her "Elaine") in the Twin Peaks neighborhood around 5:10pm. As usual, he texted Elaine to alert her that he'd be arriving in a few minutes. Most customers appreciate but don't reply to these text alerts so there's nothing unusual there. Nothing was out of the ordinary until our driver rang the door bell and found out that no one was at home.
That's probably ok. Perhaps Elaine was doing something and couldn't come to the door. He called and texted Elaine a couple more times and waited a few minutes before ringing the bell again. Still no answer. Our driver then texted and left a voicemail saying he'd be back later after dropping off other deliveries. He did so at 5:50pm and still no one was home and no one responded to either text or phone calls. Our base support team was alerted. We then emailed Elaine to describe the whole situation, urging her to call us back.
No luck. The meals were back in the fridge. I placed another call at 8:30pm and by luck, someone answered! The phone number belongs to "Isabelle" (not her real name), not Elaine! It turns out Isabelle ordered meals for her friend Elaine, whose husband just got out of cancer surgery! I described to Isabelle what happened and asked if she could reach Elaine. She tried with no luck.
I offered to deliver the meals to Isabelle, but she was 3 hours away! After a few more minutes, Isabelle found an alternate person in the city that we could deliver the meals to. This person would help bring the meals to Elaine. We dropped a simple get-well card, signed by our team, and I delivered the meals just before 9pm. The friend shoved $20 as tips to me, but I didn't accept it. This is the least we can do to help the situation and accepting tip would just be wrong.
Elaine, we don't have any follow-up, but we sincerely hope your husband has recovered well. Isabelle, you are an amazing friend. You reminded us how important it is to help a friend in need, and we thank you for having us play a small role in that.
Share this:
Last week, we introduced Munchery VIP, a reward program for our most loyal customers. The feedback for the program has been overwhelming! These are our very best customers and we strongly feel that they deserve a special shout-out for their amazing support of Munchery over the past couple months.
Munchery VIPs enjoy an automatic 10% discount for all orders on munchery.com. When a VIP logs in, he or she will see a VIP designation on the upper-left logo like the one you see above. Any review written by a VIP will carry the same designation, so others can know and trust your feedback. See an example below.
That's not all. Munchery VIPs will enjoy many future benefits including special offers that are simply not available to others. We'll keep you updated.
So how does a customer become a VIP? Keep ordering and be engaged with our chefs and Munchery with your feedback. It's currently an invite-only program and we keep a very close eye out for the next set of candidates.
Share this:
Chef Simone Shifnadel from Delish Dish came on board to Munchery last week.
Her menu sounded delicious so we had to place an order to try out. We opted for 3 meals.
Chef Shifnadel delivered the meals herself. They were very well packed in compostable containers and were absolutely delish!
Green Curry Coconut Salmon
Wild salmon, peas, and bell peppers cooked in a green curry coconut sauce infused with fresh basil and cilantro. Served with Basmati rice.
Grilled NY Steak with Chimichurri sauce
Grass-fed stead grilled, drizzled with Chimichurri sauce (a zesty Argentinian herb sauce). Served with roasted potatoes and asparagus.
We also ordered the Braised Greek Chicken, but it was eaten before I had a chance to take a picture! Yeah, go ahead, blame the hungry ones!
Or we'll need to get more meals next time.
Share this: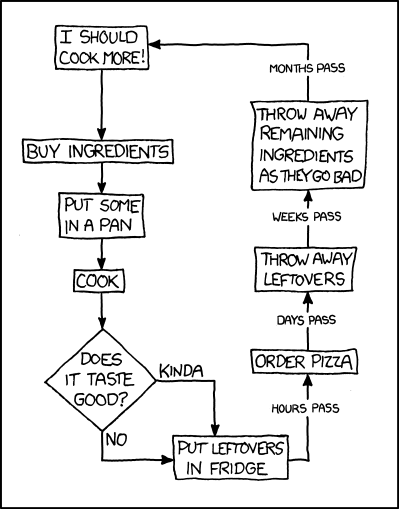 This situation happens to me a lot, being a single guy with little skills in the kitchen. Just wondering, does this also apply to you?
Share this:
A recent customer sent us feedback (along with photos!) of her meals from Munchery Chef Nicole Gimmillaro of A Moveable Feast Food Delivery Service, serving the Marin area. Thank you Kate!
Most important question: how was the food? Kate showered us with these complements:
So yummy!
very fresh, tasty
More over, we would like to highlight something you don't normally get from eating out at your local restaurants. Kate wrote about Chef Nicole:
she was very nice too, very professional and lovely
We were delighted with these comments. Then, we get to see the proof photos:
A handwritten note!
And here's a detailed photo of the Spring Quinoa Salad with Tahini Dressing (click it to see full size):
If you would like to try out Chef Nicole's food, check out her profile on Munchery. You rock Nicole!
https://munchery.com/chefs/nicoles-food-services
Meanwhile, please excuse us … we have to go wipe off our drools.
Share this: