It's always been a pleasure for our Munchery team to bring daily joy to our beloved customers. Something seemingly so simple as great food and outstanding service can bring happiness and squash away one's hardship for the day, even if just for a short while.
Here at Munchery, we quickly learn from our customers that delivering care and happiness is not bound to geography! We often have customers who don't live in San Francisco themselves, but bought gift cards for their love ones who do live there, whether for an anniversary or to celebrate the birth of a new baby!
I want to share a recent story that was slightly different.
Earlier in the week, one of our drivers was delivering a few meals to a customer (for confidentiality purposes, I'll just call her "Elaine") in the Twin Peaks neighborhood around 5:10pm. As usual, he texted Elaine to alert her that he'd be arriving in a few minutes. Most customers appreciate but don't reply to these text alerts so there's nothing unusual there. Nothing was out of the ordinary until our driver rang the door bell and found out that no one was at home.
That's probably ok. Perhaps Elaine was doing something and couldn't come to the door. He called and texted Elaine a couple more times and waited a few minutes before ringing the bell again. Still no answer. Our driver then texted and left a voicemail saying he'd be back later after dropping off other deliveries. He did so at 5:50pm and still no one was home and no one responded to either text or phone calls. Our base support team was alerted. We then emailed Elaine to describe the whole situation, urging her to call us back.
No luck. The meals were back in the fridge. I placed another call at 8:30pm and by luck, someone answered! The phone number belongs to "Isabelle" (not her real name), not Elaine! It turns out Isabelle ordered meals for her friend Elaine, whose husband just got out of cancer surgery! I described to Isabelle what happened and asked if she could reach Elaine. She tried with no luck.
I offered to deliver the meals to Isabelle, but she was 3 hours away! After a few more minutes, Isabelle found an alternate person in the city that we could deliver the meals to. This person would help bring the meals to Elaine. We dropped a simple get-well card, signed by our team, and I delivered the meals just before 9pm. The friend shoved $20 as tips to me, but I didn't accept it. This is the least we can do to help the situation and accepting tip would just be wrong.
Elaine, we don't have any follow-up, but we sincerely hope your husband has recovered well. Isabelle, you are an amazing friend. You reminded us how important it is to help a friend in need, and we thank you for having us play a small role in that.
Share this:
Last week, we introduced Munchery VIP, a reward program for our most loyal customers. The feedback for the program has been overwhelming! These are our very best customers and we strongly feel that they deserve a special shout-out for their amazing support of Munchery over the past couple months.
Munchery VIPs enjoy an automatic 10% discount for all orders on munchery.com. When a VIP logs in, he or she will see a VIP designation on the upper-left logo like the one you see above. Any review written by a VIP will carry the same designation, so others can know and trust your feedback. See an example below.
That's not all. Munchery VIPs will enjoy many future benefits including special offers that are simply not available to others. We'll keep you updated.
So how does a customer become a VIP? Keep ordering and be engaged with our chefs and Munchery with your feedback. It's currently an invite-only program and we keep a very close eye out for the next set of candidates.
Share this:
Chef Simone Shifnadel from Delish Dish came on board to Munchery last week.
Her menu sounded delicious so we had to place an order to try out. We opted for 3 meals.
Chef Shifnadel delivered the meals herself. They were very well packed in compostable containers and were absolutely delish!
Green Curry Coconut Salmon
Wild salmon, peas, and bell peppers cooked in a green curry coconut sauce infused with fresh basil and cilantro. Served with Basmati rice.
Grilled NY Steak with Chimichurri sauce
Grass-fed stead grilled, drizzled with Chimichurri sauce (a zesty Argentinian herb sauce). Served with roasted potatoes and asparagus.
We also ordered the Braised Greek Chicken, but it was eaten before I had a chance to take a picture! Yeah, go ahead, blame the hungry ones!
Or we'll need to get more meals next time.
Share this: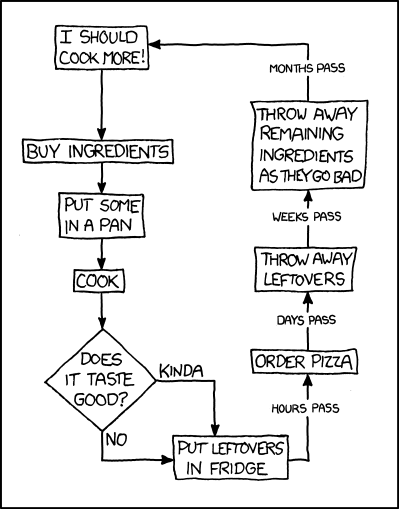 This situation happens to me a lot, being a single guy with little skills in the kitchen. Just wondering, does this also apply to you?
Share this:
A recent customer sent us feedback (along with photos!) of her meals from Munchery Chef Nicole Gimmillaro of A Moveable Feast Food Delivery Service, serving the Marin area. Thank you Kate!
Most important question: how was the food? Kate showered us with these complements:
So yummy!
very fresh, tasty
More over, we would like to highlight something you don't normally get from eating out at your local restaurants. Kate wrote about Chef Nicole:
she was very nice too, very professional and lovely
We were delighted with these comments. Then, we get to see the proof photos:
A handwritten note!
And here's a detailed photo of the Spring Quinoa Salad with Tahini Dressing (click it to see full size):
If you would like to try out Chef Nicole's food, check out her profile on Munchery. You rock Nicole!
https://munchery.com/chefs/nicoles-food-services
Meanwhile, please excuse us … we have to go wipe off our drools.
Share this:
Ever since we started going to the Farmers Market at the San Francisco Ferry Building on Saturday mornings, we can't help not coming back. With nearly 100 farms, artisans, and purveyors, we continue to be surprised on each visit. We can see why our Munchery chefs love shopping at markets like these!
Here's a scene of the crowd and the view back towards the downtown buildings. It was 70-degree weather with not a cloud in the sky (which is actually not very common for San Francisco!).
Now, check out a small sample of stuff we picked up yesterday.
These strawberries, grown in Watsonville (about 1.5 hr drive away), are to die for. I have eaten a lot of strawberries, but these take the top spot!
Then there's organic Saint Benoît Yogurt, made in Sonoma County. Our boys devour these in a flash.
Here are some super sweet chirimoyas (custard apples). I haven't eaten these in years. They remind me so much of my grandmother's garden.
Last but not least, we picked up some Roli Roti's rotisserie chicken, and ate them on the spot!
Our Munchery chefs love to shop at various Farmers Markets. They support sustainable and locally grown produce. We love them for that! The food they create taste so much better thanks to such fresh ingredients. We all get to enjoy their great meals, and in turn do our part to support these wonderful local communities.
The Farmers Market is operated by a nonprofit: the Center for Urban Education about Sustainable Agriculture (CUESA). Check them out: http://www.cuesa.org/
Share this: